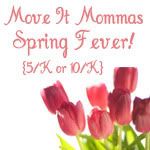 So Deb has been doing some amazing running and she joined in on Momma's Spring Fever run and I'm going to join also. I am also going to sign up for my first ever 10K. I know I can't run the full thing, I'm just getting the 5K's into runs but I'll do the walk/run and just see what I can do. I'm excited to give a new run a start. This challenge runs from March 1-15th so I'm going to shoot for the 10th, a Saturday morning, and just see what I'm capable of.
If you'd like to join, just head on over to Move it Momma's and read and decide. It is perfect to go with my E2E challenge to learn and enjoy running.
Take care and have a blessed weekend.