Passed away at home peacefully last Saturday. Today was the visitation and funeral. I can't imagine, not even one little bit, how being together for 1/2 a life time and now being alone the last 1/2. Sue is the most wonderfullest person. She has been so strong through all of this. Mike passed away with her right beside him. They were able to talk on Monday about what he wanted and what he thought she should do and how to take care of this and that and when it's time she can't what he thought she might like. I feel so sad for her. I went to the visitation for a bit and talked to the sisters and brothers. I have known this family since I was a wee one. One of the daughters loved my daddy and spent lots and lots of time at our place and my mama was her mama's best friend. I was driving truck and in NY when her mama passed away. My mama asked me to come home, I was there in less than a day. I didn't know Mike that well, he's 12 years older than I am….but only 12 years older than I am. WOW!!! Way to young to pass away. Cancer is such a terrible thing.
His obit….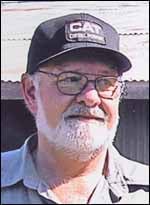 Michael Vernon Roring, 63, Aitkin, passed away at his home on Saturday, June 22, 2013, after a courageous battle with cancer. His last week was spent with his family and friends by his side.
He was born April 16, 1950, in Crosby, the son of Herbert and Eileen (Klatt) Roring. He graduated from the Aitkin High School in 1968. He married Susan Ford June 20, 1970, at St. Joseph's Catholic Church in Deerwood. They were blessed with a son, Shannon Michael. Mike worked for the Pittsburg-Pacific Mine in Crosby shortly after graduation until its closing. Mike had many jobs as a heavy equipment operator. In the '80s along with Bill Cook they started B&H Gun Supplies. Later it was bought out by Hoss and became Hoss's Gun Shop. He enjoyed hunting, fishing, NASCAR/Drag Racing, and hanging out with friends. In his earlier years he participated in demolition derbies, snowmobile racing, pulling on tug-o-war teams and trap shooting.
He is survived by his wife, Susan; son, Sam (Vicki); and granddaughter, Candace (Roy); two great-grandchildren, Colten and Camden; brothers, Jerry, David (Tracey) and Alan (Janelle); sister, Dona (Jim) Svoboda and many nieces and nephews. He was preceded in death by his parents and sister, Sandra.
A memorial service will be held at 11 a.m. Thursday, June 27, from the Sorensen-Root-Thompson Funeral Home with the Rev. Ron Tibbetts officiating. A visitation will be held from 9:30 a.m. until the 11 a.m. services at the funeral home.
Please pray for Sue and the family for peace in this very hard time of life.