Isn't it awesome when summer arrives? Well for us up here it is. I just love this weather, I love the green, I love the gardening, the mowing, the outdoors and I love that I listened to myself and didn't stay with a job I hated beyond hate and took one that is just about perfect. Just about is only because it's part time summer work but that's the only downer the rest is awesome. Want me to tell you about it? Well I'm going to even if you don't want to know.
You already know that I work special needs on Fridays
, I am a special home health aide for a 92 year old gentleman that oh so wants to go home so he's working hard at a friends house so he can go
. And my best part, I am working at a mini golf course in Deerwood. I can be outside almost as much as I want to be plus for a summer part time job the pay isn't awful. If you click on the picture it'll take you to Traditions web page and you'll get to learn a bit more about it and if you live or visit our area, please stop in…you will be delighted and we'll be ecstatic to see you.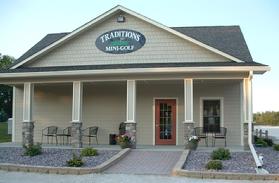 Life has settled down. My parents are doing pretty good. In fact they came to work to see me. See…..
Scott and Mike too.
Mike is settled at his job and shortly will be off probation (the first 90 day thing) and him and the company are looking forward to being able to use him in other departments like engineering as well as fabrication and shipping and receiving that he already works in. He works for
in McGregor. If you click on the Floe you can see what they do and what Mike is apart of. We know it's not the diesel tech that he went to school for but at least he's using his minor, welding. And one day a job will roll around that is meant for him as a diesel technician.
My husband has gone from the …. well not the winner of the husband award to an awesome, understanding, wonderful man. There is no more egg shell walking, there is no more worrying about what I've done, said, thought or expressed because it's not his thoughts. I have fallen back in love with him and it's marvelous.
Now it's time to fall back in love with me. I have gained all my weight I lost back (except about 10 lbs) and I could make excuses about how life sucked and how things just didn't work but I can't go back and fix things, I can't bring Cindy back, I can't change my daddy's future and I can't fix things that were broken. But I can move forward and I am. I started last week with watching what I was eating and cutting out the sugar again and I know very well I feel awesome when I do that so I will keep that going this week and today I was up and out of the house as soon as Mike came and ate breakfast and dropped off his dog. I walked 2 miles and saw the most beautiful morning.
And after my walk and a breakfast of berries and yogurt I went out and tilled the garden. It has been so wet and nasty that I've lost over 1/2 my tomato crop, 3/4 my brussel spouts, 1/2 my cucumbers, 1/2 the peas and 1/2 my peppers but the corn, kohlrabi, onions, sunflowers and potatoes are coming along just fine….slow but growing. The weeds are amazing, no matter what the weather is they thrive just fine. So today I finally got in there and took care of them and will have to do it again on Friday but at least I got to get that done.
By 9:30 I already have my steps in for the day
and I still have a shift at the golf course which I get lots of walking, bending from weed picking, tree and shrub trimming, picking up balls in the batting cage and lots of arm power skimming ponds. I am a work in progress
.
So I am hoping that since life has settled down some that I can stop by and visit you and see what you've been up too. I have a few bloggers I get in my in-box but I know I've missed out on quite a bit of your lives and hope to be able to stop and see and comment.
Take are my friends. I hope you all are doing awesome. You really are a top notch bunch of wonderful people that I am truly blessed to "know".